[ad_1]

Moe's offers a clean, safe, luxurious space for cannabis consumption.
Rather than meeting up with your friends at a local bar for a drink, try stopping by Moe Green's and meeting them to share a joint. Although cannabis is now recreationally legal, sparking up a joint in public spaces is still against the law. Cannabis consumers are usually restricted to enjoying their weed in private residences. That is unless you are in close proximity to a cannabis consumption lounge, or cannabis cafe. Cannabis lounges opening all across California, and even in Las Vegas, are taking notes from those already operating in the Bay Area. These legal consumption lounges offer cannabis lovers a safe and clean space to enjoy a bowl. Moe Greens is a luxury cannabis lounge on San Francisco's Market Street, located near the iconic Bill Graham Civic Auditorium and City Hall. And is proving to be the newest hot spot for mingling cannabis enthusiasts. 
RELATED: BARNEYS' "THE HIGH END" CURATES LUXURY IN CANNABIS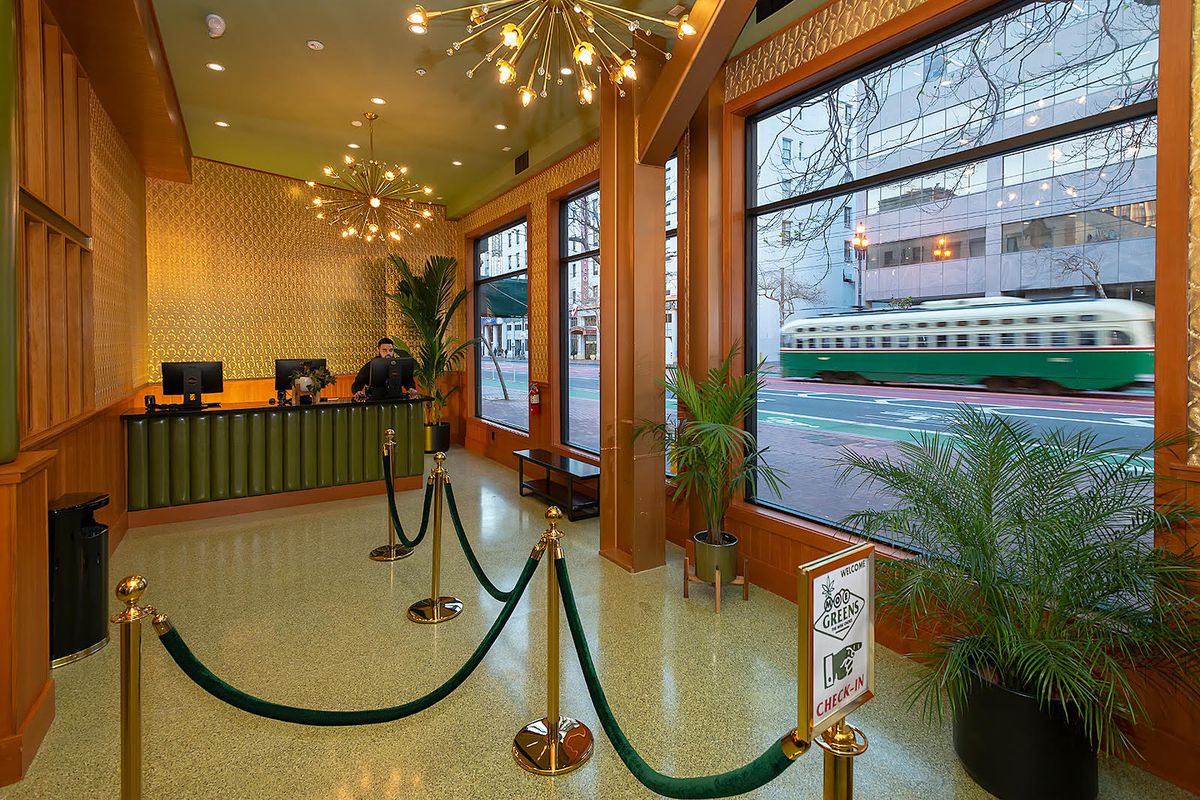 As you enter the lavish green and gold themed dispensary, it feels as if you've been transported into OZ's Emerald City, the velvet green ropes guiding you to the check-in counter. Once you have shown your I.D at the entrance and continued with check-in, you can then head over to the counter to purchase your weed (or cannabis concentrate) of choice. The best part is that after you've completed your purchase you now have access to their three attached cannabis rooms. If you purchase flower or edibles you are able to access the lounge all day, however, if you purchase any concentrates, you have three-day access to the lounge. Entering the lounge are, the attendants will check your receipt to verify your purchase. You can then have a seat in one of their comfy green leather booths in 'The High Roller Room', grab a seat at a high top table in 'The Playground' or try out some concentrates in their VIP dab room, 'The Vault'.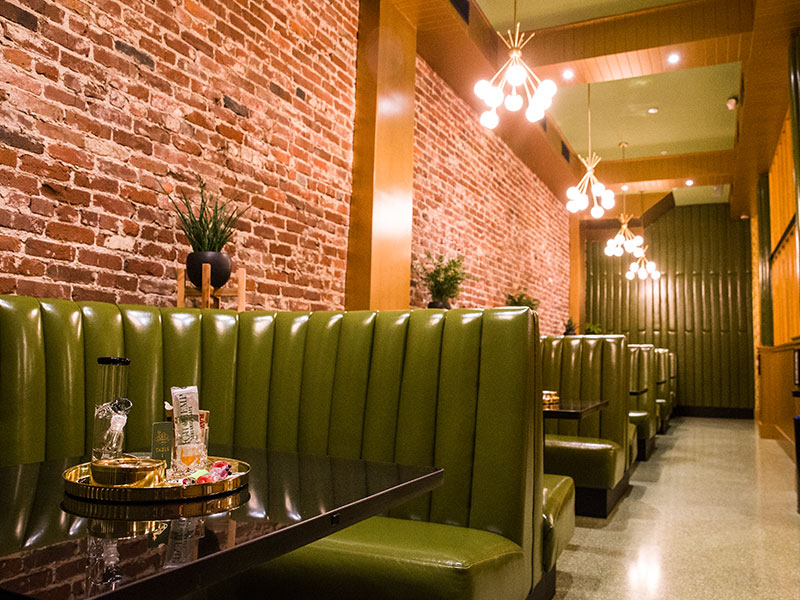 Just like bars, cannabis consumption lounges require patrons to be 21+.
Besides proof of purchase, the lounge requires that visitors be at least 21 years of age. If the tables are full, they do have a waitlist. One of their rules is that during peak hours, there is a 30-minute time limit per table. Other rules include; no outside cannabis, tobacco, or alcohol is allowed to be consumed in the lounge. Each table is set with rolling papers, alcohol wipes, q-tips, a grinder, rolling tray, ashtray and a lighter. Also on the table is a leaflet that details the signs of over-consumption, and if you happen to experience any of the listed symptoms it's advised to notify a budtender who will kindly assist you. Which is helpful considering not just experienced cannabis users are partaking these days. There is a large and growing demographic of new cannabis smokers who still may not know their tolerance limits. This small detail is extremely effective in making the lounge feel like a safe environment to consume. Once seated, a budtender makes the rounds checking in on patrons, offering new bongs and papers, or some deliciously satisfying cold water.
RELATED: HOW TO COUNTERACT FEELING "TOO HIGH"

Consistency is key in any establishment and Moe's continuously delivers excellent service.
I've visited this location over a handful of times now and the budtenders are always extremely helpful in suggesting the cheapest bargains for the best cannabis products. (Don't forget to leave a tip for quality service!) As a consumer, I enjoyed the fact that I had a safe space outside of my own home to smoke. I didn't have to hide in my car or tuck myself away in a corner. I had a public location where I could sit for a while, relax and smoke. They have music playing and attendants to check in on your needs. You can even purchase more weed from the budtenders while you're smoking, or try out the assortment of dab rigs they offer. It's another step towards normalizing weed like we do alcohol. I've gone with friends, but with this chill and inviting atmosphere, plenty of people go solo, bringing their laptop for work or a book to enjoy their time. On that note, yes, they do offer free WIFI. They also always have very tidy and well-stocked restrooms, if you've ever been stuck outside smoking with friends you know finding clean bathrooms, more often than not, can be a bit of a challenge. The lounge is also dog-friendly, which I'd say is one of the best perks! Moe's also has daily specials for a variety of different brands and products.

Where can you find a consumption lounge?
It's about an hour drive for me to spend time at Moe's with my best friend, but we try to go as often as we can. Since it is a bit of a trek we usually make a day of it and grab some food at one of San Francisco's many delicious local eateries. Consumption lounges are not allowed in the city we're from at the moment, in California they can only legally operate in municipals. San Francisco currently has around 10 lounges, Moe's by far is my personal favorite. There are also other cities across the state where you can find legal cannabis consumption lounges; in Oakland, Palm Springs, West Hollywood, and Eureka. Outside of California, Denver has a prominent cannabis lounge scene, and there has even been talks about a few opening up in Vegas.  If you're able to experience these lounges, you know how convenient they are. It's like a restaurant or bar but for weed lovers and it's truly a beautiful thing!
[ad_2]

Source link